Take advantage of our limited time offer. Enter promo code HOLIDAY25 to save up to 25%.
See offer details
.
California Privacy Notice - Consumers@Model.Title.HeadingType>
Last Updated: February 2, 2023
This California Privacy Notice (the "Privacy Notice" or "Notice") provides limited information to California residents only about how PODS ENTERPRISES, LLC and its affiliates ("PODS," "we," "us," "our") collects, uses, and discloses Personal Information. For more details about our privacy practices and any privacy rights you may have, please see our Privacy Policy.
Information We Collect From California Residents
We may collect information that personally identifies, relates to, describes, or is capable of being associated with you ("Personal Information"), including:
Identifiers

such as name, mailing address, service address, email address, phone number, drivers' license or other government identification card information, PODS login information;

Characteristics of protected classifications under California or federal law

such as age, race, ethnicity, religion, marital status, gender;

Other demographic information

such as the language(s) you speak, household income;

Commercial information

such as payment card or bank account information, the type(s) of service subscribed to, equipment information, service dates, customer type, contract terms, account balance and status, account number, whether you own or rent a property, dwelling age, size and type;

Internet or other electronic network activity information

such as browsing/search history, IP address, data collected by cookies and similar technologies, device information such as device IDs, specifications, and operating system;

Geolocation data

such as precise and non-precise geographic location indicators from mobile devices and websites;

Audio, electronic, visual, thermal, olfactory or similar information

such as call recordings, chat transcripts, email correspondence, testimonials, pictures;

Professional or employment-related information

such as employer, occupation

;

Education information

such as education level;

Inferences drawn from other Personal Information or data

that relate to your preferences, interests, characteristics, psychological trends, predispositions, behavior, attitudes, intelligence, abilities, and aptitudes, including credit reports and scores; and

Personal information as described in Cal. Civ. Code § 1798.80(e)

to the extent collected under another category of Personal Information above.
Some of the Personal Information listed above may be considered Sensitive Personal Information under relevant privacy laws. This includes social security number, driver's license or other government identification card information, race, ethnicity, religion, precise geolocation information, and PODS account login credentials. Each type of Sensitive Personal Information may overlap with a category of Personal Information listed above.
How We Use Information of California Residents
We may use Personal Information for business purposes, such as:
Account creation, fulfillment, servicing and customer support

: to process applications, create customer accounts, allow customers to create online accounts and profiles, provide goods or services, keep customers informed about the status of their products and services, engage in general customer service operations, provide newsletters, announcements, service bulletins, and other information, or to otherwise fulfill the purpose for which you provide your information;

Marketing and market research

: to send communications and offers for our or third parties' products and services, including offers based on consumers' interests, personal and business characteristics and location, perform analytics for market and consumer research, trend analysis, financial analysis, and anonymization of Personal Information;

Collection and credit reporting

: to collect on outstanding balances and update credit reporting agencies;

Customer communications and interactions

: to administer surveys, polls, sweepstakes, contests, promotional events, or to otherwise communication and interact with customers and consumers;

Website use and analytics

: to provide you with access to and use of our Sites and Services, analyze consumers' use of our websites, including the use of third-party web analytics services, which may utilize automated technologies to collect data;

Eligibility and pricing

: to determine if consumers are eligible for certain products, services, or offers and the pricing related to such offers;

Product research

: to conduct research and analysis for maintaining, protecting, and developing Services, increase and maintain the safety of our products and Services, and prevent misuse;

Business operations

: to evaluate, develop, and improve business operations, products and Services offered, carry out our obligations and enforce our rights arising from any contracts entered into between you and us, perform business administration and other normal business activities;

Compliance

: to comply with applicable legal requirements, industry standards, contractual obligations, our policies, and take actions that we deem necessary to preserve and enforce our rights and the rights of others; and

Information security and fraud prevention

: to operate information security and anti-fraud programs.
We use Sensitive Personal Information as follows:
Drivers' licenses and government identification cards

– to provide the Services, service accounts, collect on accounts, and as otherwise required by law.

Race, ethnicity, and religion

– as input criteria for marketing communication and analytics.

Precise geolocation information

– to help target relevant offers and marketing content to you.

PODS account login information

– to permit access to customers' online accounts, and in connection with our security and anti-fraud programs.
We may also use Personal Information and/or Sensitive Personal Information as described to you at the point of collection, with your consent, or as otherwise required by California law.
Third-Party Selling and Sharing
While PODS does not sell your Personal Information for monetary consideration, PODS does share your information for other purposes that could be deemed a "sale" as defined by certain state legislation. Accordingly, we may sell and/or share Personal Information to third parties who are not our service providers. These companies may use your Personal Information for their everyday business purposes, including marketing.
How Long We Retain Your Personal Information
We may retain each category of Personal Information for as long as needed or permitted based on your relationship with us, our legal and regulatory obligations, and our need to retain information for normal business purposes, including marketing.
Let's Get Started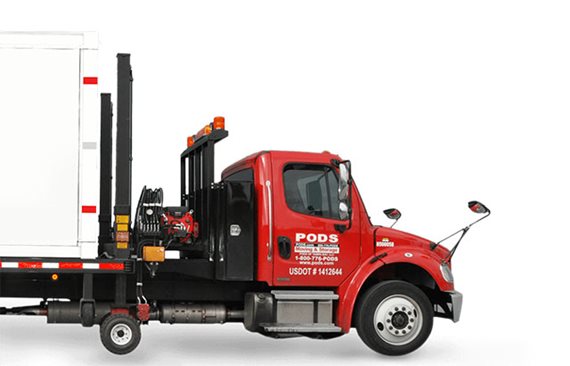 Choose the service you need