Take advantage of our limited time offer. Enter promo code HOLIDAY25 to save up to 25%.
See offer details
.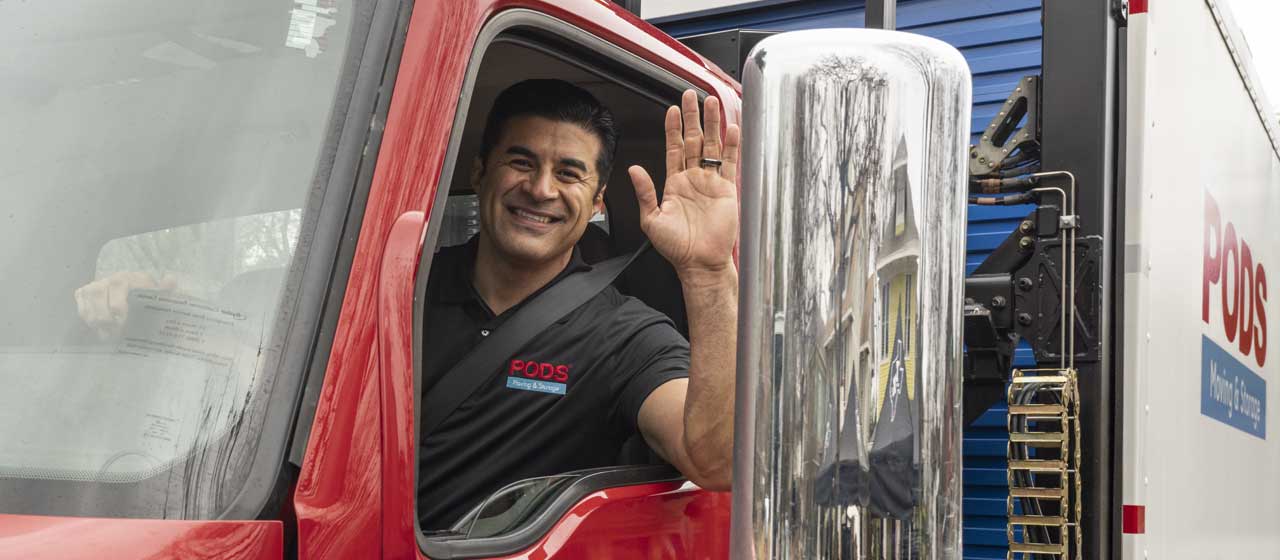 Personalized local moving solutions
Skip the rental truck and moving companies. PODS portable containers are the flexible, convenient solution for your unique move. And our team is with you every step of the way.
This may take up to 30 seconds.
We're searching over 200,000 containers to find you the best price.
Portable Containers Make Moving Simple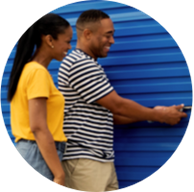 Take your time and stay flexible
No rigid timelines here, thanks to PODS' easy, built-in storage. Keep your container for as long as you'd like in your driveway or at one of our secure indoor facilities. Unlike other moving companies, we can move you in a week, a month, or whenever you're ready – you're in control of the schedule. Change of plans? Rescheduling is easy.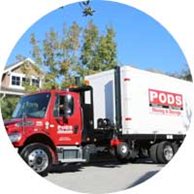 Fewer hassles and a lot less work
We bring your portable container to you, and you only have to load and unload it one time — even if you need to temporarily store your things at a secure PODS Storage Center. Once your unit is loaded, we'll drive it where is needs to go, whether it's your next home or one of our facilities.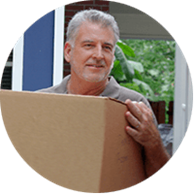 As DIY or full-service as you need
You can do it all on your own (go, you!) or get help with packing and loading. Whether you want your whole house packed up and loaded into your container or you just want help with some heavy lifting, we can help connect you with the hourly labor you need.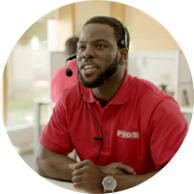 Real people every step of the way
With PODS, you're not just getting a container. Our team — rated #1 in customer service for moving companies -- understands each move is unique and listens to your needs. This means you get personalized solutions and exceptional support at every step of your journey.
Watch Now: Personalized Moving and Storage Solutions
PODS vs. Rental Trucks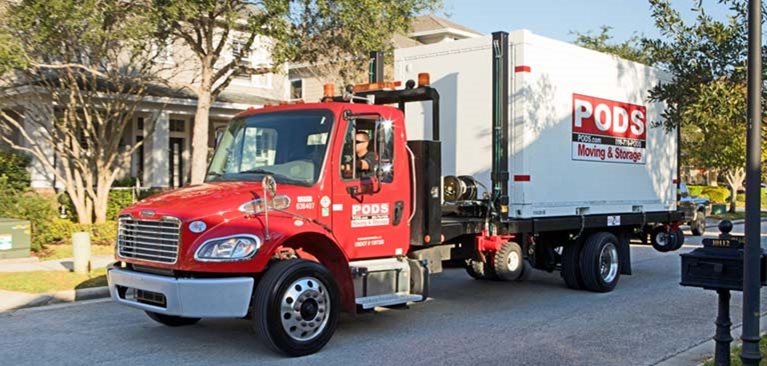 We take care of the driving*.
No need to worry about tight deadlines. Our containers are rented on a monthly basis, so you can take your time.
You only have to load and unload your belongings one time, no matter how many times you move your stuff.
Remodeling before or after your move? Get 24-hour access to your items in your driveway.
Need storage as part of your move? You don't have to rent a truck multiple times to schlep your stuff back and forth.
Keep your container at your place for as long as you need, or we'll drive it to one of our indoor storage facilities.
Compare PODS to moving trucks
Local Moving Solutions Built Around You@Model.Title.HeadingType>
Buy yourself some extra time
Who says you have to move everything in one day? If you're remodeling before you move in or just want to take your time, built-in storage and flexible scheduling are just what you need. You can keep your container in your driveway and take your time loading and unloading — or let us store your stuff in one of our local secure indoor storage facilities until you're ready.
Between homes? We've got your back.
In a perfect world, your closing date and move-in date would line up perfectly. But in reality, moving is rarely that simple. We can deliver a container with your essentials to a temporary home and store the rest of your stuff at a secure PODS facility nearby, or we can store everything for you while you get cozy with the in-laws for a bit. Once you've found a new place, let us know and we'll deliver your stuff to your next home.
Stage your home for sale before moving
Make your place its ready-to-sell best with PODS. Clear your home of clutter and load it into your container in your driveway. We'll move it to one of our secure, indoor Storage Centers until your home sells. When it's time to move, your container will be pre-packed and ready, or we can bring it to you to load the rest of your stuff and then deliver everything to your new home.
Downsize or split up a household with personalized solutions
Holding an estate sale or moving into a smaller home? PODS offers unlimited time and space, so you can keep a container in your driveway while you decide what to get rid of. Then, we can pick it up and bring it to a secure Storage Center, ship it to your family, or both. Whatever you need for your move, we're here to make it happen.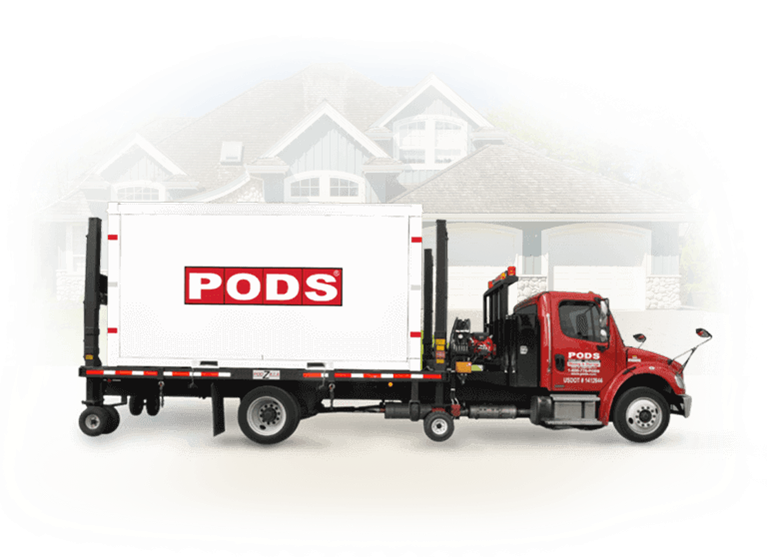 Want More Details on Moving with PODS?
This guide explains what you can expect from PODS during every step of your move, including:
Getting an online estimate and reserving your container
Flexible scheduling and payment process
How container delivery and pick-up work
Packing and loading strategies from the pros
Easy storage and moving labor options
See step-by-step moving guide
PODS Reviews
"Everything you said you would do, when you said you'd do it, at the price you quoted, was absolutely done as promised! After reading one nightmare after another from full service moving companies, I am so glad I went with PODS!"
"I priced out traditional moving companies and they were all so expensive. I also needed a place to store things ... A traditional storage unit could have worked, but then I would have had to drive all of my things over there and my car just isn't big enough to get all of that done well. Having the [PODS container] right outside of the house was critical … so it was the perfect all-in-one for me."
"We've used moving companies in the past and we weren't happy with the experience. We needed a service that would allow us to move our belongings long distance, but that is more cost-effective and gives us the option of storing our belongings without having to unload and move the boxes numerous times."
Got Questions About Local Moving? We've Got Answers.@Model.Title.HeadingType>
What costs are associated with moving?
In addition to getting all your stuff moved from one place to another, there are other costs that may be involved in your local move. Taken individually they may not seem like much, but together they can add up to make local moving more expensive than you might expect:
Moving service costs, which can vary significantly depending on your moving solution (traditional full-service local movers, rental truck, or portable container).
Packing and loading hourly labor if you're using a portable container or rental truck and want help with the heavy lifting.
Boxes, bubble cushion roll, and other packing supply costs can multiply quickly.
House cleaning or handyman services for your current home or new home.
Storage unit or storage container rental in case your next home isn't ready or you're downsizing.
Some moving companies carry fuel surcharges.
Utility deposits and connection fees may be required for your new place.
Replacing everything you don't move but need — like food, cleaning products, toiletries, and other essentials.
You may wish to purchase insurance from your local moving company to cover your belongings.
If you're renting, application fees, apartment deposits, pet deposits, and the last month's rent may be required. Looking for ways to save on local moving expenses? Learn how to avoid hidden moving costs and how to cut costs while moving.
How do I budget for moving?
No two moves are alike and there are many variables that affect costs, even for local moving. Before you start calling local movers for estimates, consider these factors and how they may affect your moving budget:
What type of moving companies and services are best for your needs (portable moving container, full-service mover, or rental truck)?
Do you need storage as part of your move?
Do you plan to hire professional packers or loaders to help?
What time of year are you moving? (You'll find the lowest local moving rates from October through April.)
How far away is your new place? (Local movers may charge for driving time or mileage fees.)
How much stuff will you be moving?
Do you have stairs, elevators, or extra heavy items? (Local moving companies sometimes add charges for these.)
How much does a local move cost?
There's a wide variation in how much it costs for a local move, as it depends on the area, how far you're moving, how much stuff you're moving, storage needs, and how much you do yourself, among other factors. You'll even find quite a wide range of pricing among local movers in your area. That's why getting multiple estimates from local moving companies is the only way to get accurate costs for budgeting and comparisons. Be sure to look beyond the "specials" in Google listings to get estimates for your specific move and details on exactly what's included. With all that in mind, here are some general guidelines on costs for local moving for your three main types of moving solutions – portable moving containers, full-service local movers, and rental trucks:

PODS Moving and Storage Container: $299 to $499* for local moves:

Pricing depends on distance, your area, and container size and quantity needed to hold your belongings. An estimated 20% of PODS moves fall above or below this average range based on these variables.
What's included: Container delivery and pick-up for both your current and new home, as well as 30 days of built-in storage, so you can take your time loading and unloading or even store your stuff at a PODS indoor storage facility near you.
What's not included: Loading, unloading, packing, or unpacking. Referrals to trusted packing and loading professionals are available.
How it works: We deliver your container, you take your time loading, and we pick up your container, and deliver it to your new home. You schedule the pick-up and delivery dates that work best for you. If your new home isn't ready, you can keep your items in storage on a month-to-month rental basis at a PODS Storage Center without extra loading and unloading.
Why choose a container service for local moving? Moving containers work especially well for local moves where you need to combine moving and storage to accommodate home staging, remodeling, a delay in moving into your new home – or just want more time, flexibility, and control over your moving process.
Full-Service Move: $1,250* for local moves:

Pricing for local moves works differently than with long-distance moves. Local moving companies typically charge by the hour, with costs varying based on your area, distance, and the number of moving professionals needed to help. Some companies add the travel time to get to your existing home in addition to time spent driving to your new home to their hourly charges.
What's included: Loading, unloading, and transport
What's not included: Storage, packing and unpacking, and gratuities. While packing and unpacking can be added, many local movers don't offer storage. If storage is available, the cost can be a lot higher than you'd expect to pay at a self-storage facility, and you may also need to pay for extra time for unloading and loading your stored belongings.
How it works: Traditional local moving companies come to your home, load your stuff onto their truck, transport, and unload everything into your new home. Everything takes place on the same day, with little flexibility once you've scheduled your move date.
Why choose a full-service mover for local moving? Full-service moving companies can be a viable option for local moves if you're not worried about costs, can handle moving everything in one day, want someone else to do all the heavy lifting, don't need storage or flexibility with your move date, and are comfortable with others taking control.
Rental Truck: $155* for local moves:

Pricing depends on truck size, mileage, gas, and incidental fees.
What's included: One-day rental for a truck that you pick up and return.
What's not included: Driving, potential fees for late return, additional rental days if needed, loading, unloading, packing, unpacking, and storage.
How it works: You pick up the truck at their location, drive it to your home, load it up, and drive the truck to your new home. After you unload your belongings, you drive the truck back to the dealer's location. If you also require storage, you'll need to pay for a storage unit rental as well as another potential truck rental to move your stuff into your new home, in addition to loading and unloading multiple times.
Why choose a rental truck for local moving? Rental trucks can work well if you're on a tight budget, are moving a small household, don't mind driving a large truck, don't need storage, and can handle making your local move in one day.
*Averages based on estimates from PODS rates published September 2019, Moving.com, and HireAHelper.com.
How much does a moving container cost?
If you're considering a moving and storage container for a local move, each moving company handles pricing differently and costs vary based on your area and unique needs. Local moving costs with PODS average from $299 to $499*, including one-month container rental/storage time, delivery to your existing home, pick-up, and delivery to your new home.

PODS local moving costs depend on factors including:
Geographic location
Duration and season
Size and number of PODS containers needed
Storage needs(you can store your container in your driveway or at a secure indoor PODS Storage Center)
You can get the most accurate estimate of your local moving costs with PODS by requesting an instant online quote.
* Averages based on estimates from PODS rates published May 2019
Will moving companies store your stuff?
Most traditional moving companies don't offer storage, which is a big reason why people who need storage as part of their local move opt for portable moving containers. If local movers do offer storage, it can be expensive. PODS reinvented the moving and storage business over 20 years ago because so many people need the flexibility of built-in storage, whether they're making a local move or moving long distance.

Can PODS containers be stored?
Absolutely! You always have the option of storing your portable moving container either on your property or in a PODS secure Storage Center, even if that wasn't part of your original plan. You don't need to worry about driving a big truck or loading and unloading your stuff over and over. Once your container is loaded, PODS will pick it up and take it to an indoor storage facility nearby, where it's easy to access your stuff if you need to. When you're ready, you just have PODS deliver your container where it needs to go.

Can you hire local movers without a truck?
Yes, it's easy to hire local movers by the hour just to load or unload your truck or moving container. You can get help with packing and unpacking, too. Using à la carte moving services is usually less expensive and more flexible than hiring a full-service local moving company because you only pay for the help you need, when you need it. To learn more about packing and loading assistance, you can contact a trusted PODS partner.

Can PODS help with local business moves?
If your business needs to relocate locally or across the country, PODS can handle your move just as easily. No matter the distance, industry, or the size of your company, we are the choice of businesses that need to move in order to meet the increasing demands of their clients. Load your PODS container on your schedule so there's no interruption to the day-to-day of your business.
Get a Local Moving Quote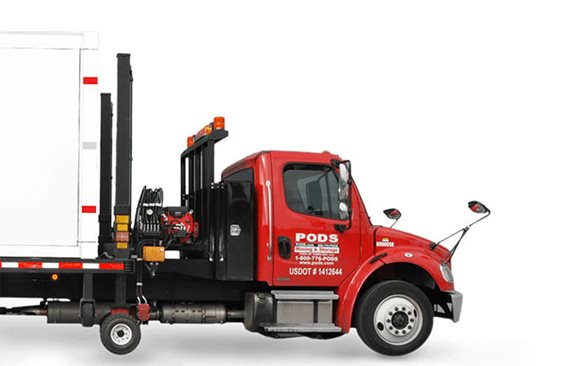 Choose the service you need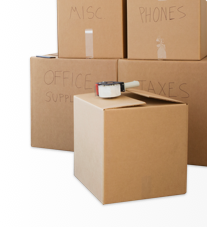 *Compared to pricing on the phone with our Customer Care Team. Price varies by market and is subject to change. PODS arranges for independent third-party motor carriers to transport containers long-distance between PODS' service locations.