Take advantage of our limited time offer. Enter promo code HOLIDAY25 to save up to 25%.
See offer details
.
Container Size Estimator
Take the guesswork out of your quote and get a more accurate estimate of the size and quantity of containers for your needs. Begin by choosing the calculator below based on your type of move.

The right amount of container space can vary depending on how many items you have, the size and shape of certain items and how the items are packed. Our calculator gives you a more accurate idea of which size or combination of sizes you'll need. The calculator serves as an estimate only. Be sure to include the contents of all rooms and spaces. Don't forget the garage, attic, basement, and closets.
Container Size Chart@Model.Title.HeadingType>
Nobody wants to pay for space they don't use. But what's even worse is discovering that you need more space after you've loaded most of your stuff. This handy table uses the square footage of your home, and how heavily or lightly furnished it is, to approximate the size or combinations of sizes that's best for your needs.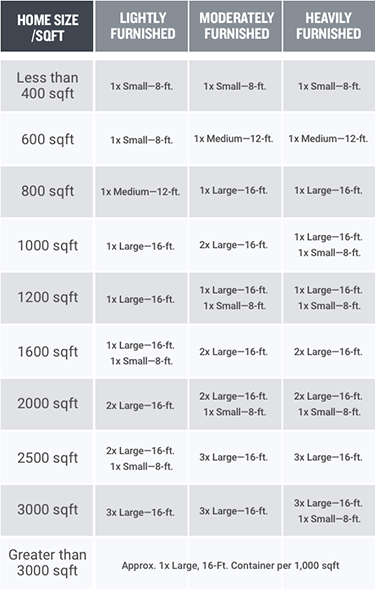 Remember that this matrix is an estimate only. Larger items and how efficiently the container is loaded will significantly impact the required size and quantity of containers. When considering square footage, remember to include any area that has items you'll be loading, such as your patio, basement, garage, and attic. Please note that the 12-foot unit is for in-town moving only. For longer distance moves, select the 16- or 8-foot sizes*.
*Dimensions are based on exterior measurements. Container sizes may vary slightly.
Related Resources@Model.Title.HeadingType>
Learn what to expect when you're expecting a PODS container delivery, and get tips on how to prepare.
Whether you're moving across the street or across the country, this checklist has you covered.
Learn to pack and load for home staging or a move.
Let's Get Started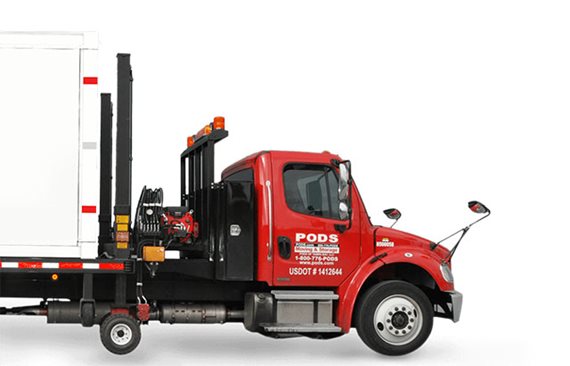 Choose the service you need